First graduates of Virginia State University (1886)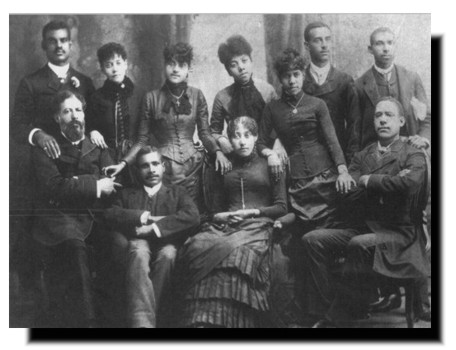 Click this link to listen to the
sounds, the cheering, and commoradery at a Black College
while you read!
The Historically Black College and University
saga began with the founding of the following schools; Cheyney (1837), Lincoln (1854), and Wilberforce (1856). Additional "Black" schools recommenced during with the period of
Reconstruction
(1865-1877) and into post-Reconstruction, with the founding of schools (not limited to) Howard University (1867) and Hampton University in (1868). Because the writer of this blog is from Virginia, I will take this space to recongize the HBCUs of Virginia, that began at
Emancipation Oak
(on the campus of Hampton University) which are; Hampton Institute (1868),"a school on a hill" Virginia State University (1882), Saint Paul's College (1888), Virginia Union University (1899) and Norfolk State University (1935).
These schools, while they have largely educated African Americans (resulting from years of racism and segregation), they have never denied any American admissions on the basis of race. These schools have a wonderful "mosaic" history. This is to say, that each individual school has contributed successfully to the image, culture, the intellectual contribution, and spirituality to both America broadly and African Americans, those that attended these American institutions most specifically. Most importantly, the pride, rich tradition, and heritage of these schools, have rebirthed those that have attended and graduated from these institutions. Its alumni are to be found and counted everywhere within American landscapes and institutions. While these schools have been around for 174 years, new generations of potential students yearn to know of this wonderment that these now 105 HBCUs possess . Recently, the 44th President of the United States of America, Barack H. Obama, held a
reception on HBCUs at the White House
. This acknowledgement of the HBCU by President Barack Obama, to both remain committed and strengthen the HBCU, added excitment and further inquiry into the story of these American treasuers.
The social network of Twitter has created a space for all Americans and most specifically African Americans to connect and reconnect with unknown and known persons. These connections, like a
quilt
, is both broad and loving. With each connection, like a pattern, has a story to tell. This is the story of the HBCU, a broad patchwork of loving people, with a story to tell that is both unique and interconnected. The world of Twitter reenforces the oral tradition, which has been a corner stone of the African American community. Share your HBCU story through Twitter with these potential students. Tell them your beautiful story of why they should attend your HBCU? (To learn more about
Virginia's Black Colleges
)